Everyone could benefit from a new way of thinking about cooking.
From family meals to hunger relief to a global culinary adventure, The GIANT companyThe team of nutritionists has lots of fresh ideas for family meals and snacks this fall.
The team invites you to snap up your aprons and take free, live classes on Zoom for chefs of all ages in September and October.
National Family Meal Month ™
September is National Family Meals Month, created to shed light on the importance of eating together. GIANT nutritionists are ready to inspire you with simple and affordable recipes in the kitchen so you can spend more time at the table.
In honor of the celebration, The GIANT Company is giving away three experiences worth up to $ 150 each. By participating in the free virtual nutrition courses in September, every course participation counts as participation in a competition and your family takes part in the competition.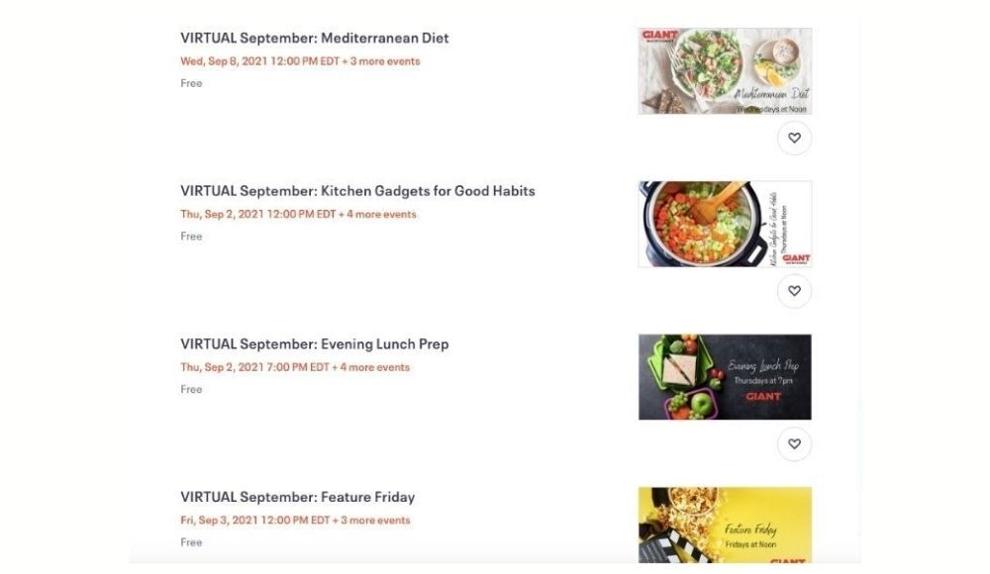 GIANT shared all the details and official rules on-line.
The National Family Meals Month course schedule includes:
Cozy lunch on Mondays at 12 noon
Family meals at 5 p.m. every Tuesday at 5 p.m.
Lunch box preparation on Thursdays at 7 p.m.
"Kitchen gadgets for good habits" every Thursday at 12 noon
Your lunch boxes will be ready the night before and you will be given all the tips to master the latest trendy kitchen gadgets.
30 days hunger campaign
The GIANT Company is dedicated to eradicating hunger in communities 365 days a year, but especially September – Hunger Action Month, the Feeding America® nationwide network of food banks' awareness campaign to mobilize the public to tackle hunger proceed.
GIANT Company nutritionists provide food insecurity education, how to help others, and how to prepare meals on a budget.
Orange is the color of hunger. A delicious and affordable orange-inspired recipe is featured every week to help raise awareness. Hunger Action's virtual course schedule includes:
Sept. 7th at 12 noon: food insecurity
Sept. 14th at 12 noon: Pay it Forward
09/21 at 12 noon: healthy eating on a budget
Sep 28 at 12pm: $ 6 meal inspiration
The worldwide culinary adventure in October
Are you ready for a culinary adventure? Japan, Egypt and Brazil are just a few of the travel destinations The GIANT Company nutritionists will explore on a virtual world tour this October.
The program is described as a fun foodie series where you can prepare delicious dishes and learn about countries from all over the world.
On Mondays at 10:30 am, mini-chefs from 6 years of age enjoy a story and create nutritious snacks from apple-cinnamon-sushi rolls inspired by Japan to Egyptian pizza mummies and Antarctic banana penguins.
Every Wednesday at 4 p.m., young chefs aged 7 to 18 can try their hand at South African crunchies, Chinese vegetable peach, Italian linguine al pesto or Mexican Day of the Dead mini fruit flan.
Families can also meet in the kitchen with Family Meals at 5 p.m. Tuesday at 5 p.m. and Family Baking Saturday mornings at 10 a.m., both with simple recipes inspired by countries around the world.
Another option: take your lunch break with nutritionists at The GIANT Company who prepare quick and easy recipes that will add a little more excitement to your Monday lunchtime meal. Try French croque madame, Korean beef tacos, or Vietnamese spring rolls and peanut sauce this October.
Experience a bit of Germany in October too in the virtual Wiesn series of nutritionists. Celebrate the iconic Fall Festival all month long, from beer pairings to traditional German recipes:
October 7th at 7pm: Introduction to beer & food pairing
14.10. at 7 p.m .: Bratwurst with red cabbage
October 21st at 7pm: quick puff pastry apple strudel
October 28th at 7 p.m .: Oktoberfest German beer cheese spread
All courses are free, but for advanced learners Sign up is required for each class.
Please visit the event page for a full list of the ingredients needed for each virtual class.
Our content is free, but our journalists work hard. 100% of your contribution to NorthcentralPa.com goes directly to helping us cover important news and events in our area. Thanks for saying local news matters!